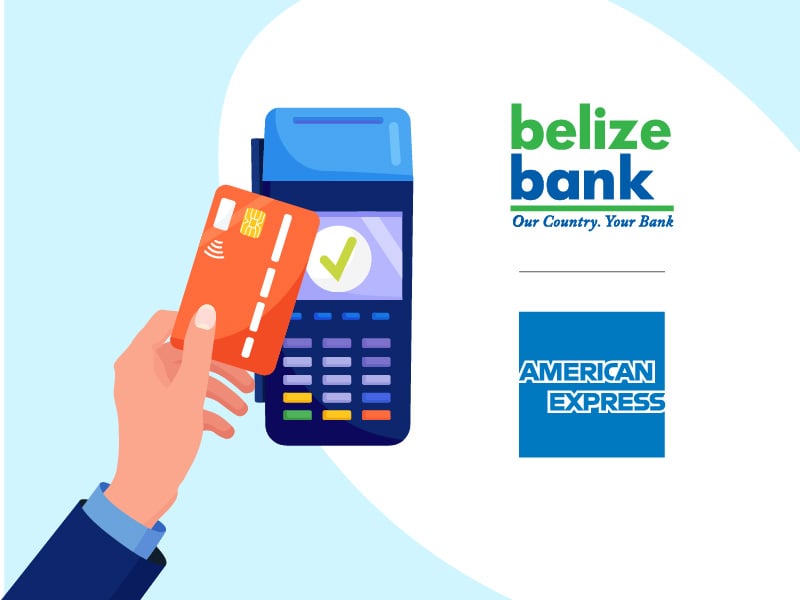 Belize City, Belize, January 17th, 2023 – The Belize Bank Limited, the premier financial institution in Belize is pleased to announce its agreement with American Express, to process American Express card transactions within its merchant network, in the Belizean market effective January 13th, 2023.
The Belize Bank offers the most robust Merchant Acquiring Service in the Belizean market providing Point of Sale for all major card brands. This collaboration aims to contribute significantly to the Belizean economy through tourism, as 76.8% of visitors are coming from the United States, according to Belize Tourism Board. Clients prefer to use their American Express card because of the rich benefit portfolio. The Belize Bank Limited statistics show that the majority of American Express cardholders used their cards at the point-of-sale terminals at hotels, restaurants and tours companies primarily in tourist destinations such as San Pedro, Caye Caulker, San Ignacio, Hopkins and Placencia. With this strategy, Belize Bank merchants will accept all American Express Credit Cards, as they accept other brands, using the same POS terminal. Belize Bank will be able to develop secure and efficient payment solutions to help merchants adapt to their customer's needs and payment methods.
Agata Ruta, Chief Operating Officer for The Belize Bank commented, "We are happy to take the relationship with American Express one step forward with the POS processing targeted at different sets of customers. This initiative will benefit not only tourists visiting Belize but also local merchants as our main objective of direct integration was to lower the cost of processing in Belize and provide robust, reliable services bringing modern financial services to the Belizean market".
Mario Luna, Regional Vice President Latin America & Caribbean, Global Network Partnerships at American Express, shared that, "With this agreement, we expand the acceptance of American Express cards in the Belizean market, through our long term relationship with Belize Bank, building the bridge between our customers and local business. I invite local merchants to experience the powerful backing of American Express Card Acceptance, where their businesses can benefit and grow by having access to a group of higher spending customers and at the same time, improving their payment experience.
For merchants wanting to find out more information or how they can sign up, please contact one of the Belize Bank Sales & Business Development Managers in your area via email to
[email protected]
or visit our website at
www.belizebank.com.
About Belize Bank Limited The Belize Bank Limited (BBL), the leader in innovative banking and financial services, is the largest commercial and retail banking operation in the country. With a track record of consistent growth, and convenient access to our digital banking channels; Online and Mobile Banking, E-kyash, POS terminals, and our expansive network of ATMs which are strategically located to better serve our customers, The Belize Bank is a pillar of strength, stability and integrity in the Belizean economy. Learn more at
www.belizebank.com.
About American Express® American Express Company is a globally integrated Travel and Financial Services Company providing customers with access to products, insights and experiences that enrich lives and build business success. Learn more at
http://www.americanexpress.com.
Since 1997, American Express has partnered with a select group of leading banks and financial institutions around the world to issue American Express-branded products and to acquire new acceptance locations in the American Express network. Through these alliances and by leveraging its global infrastructure, American Express has increased its reach as a brand and as a network throughout the world.
Agata Ruta
Chief Operations Officer
Belize Bank Limited
Jorge Guevara
Vice President, Corporate Affairs and Communications Latin America and the Caribbean
American Express