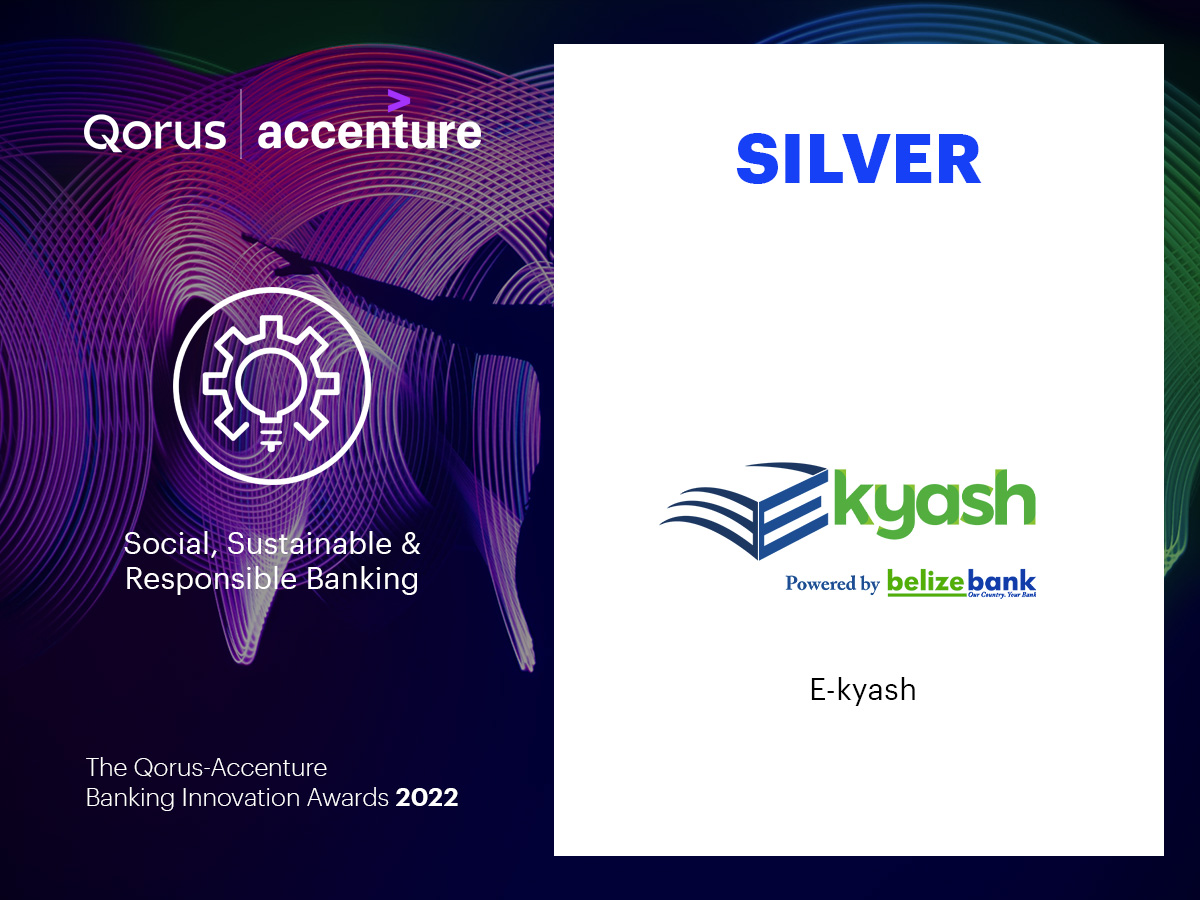 BELIZE CITY, December 15, 2022 – Qorus, a global association for retail financial institutions, and Accenture (NYSE: ACN) announced the winners of the ninth annual Global  Qorus-Accenture Banking Innovation Awards during a live ceremony in Barcelona on December 1st.  E-kyash, powered by Belize Bank won the Silver Award for its submission in the Social, Sustainable & Responsible Banking category.
The awards serve as a catalyst for innovation in the banking sector by honoring the best ideas and practices transforming the industry for the benefit of banks and customers alike.
During the ceremony Executive Chairman Mr. Filippo Alario  stated, "We are proud to have E-kyash as one of our main Corporate Social Responsibility initiatives as we aim to reduce cash in circulation and bring modern financial services to Belize, who is very much ready to use state-of-the-art financial tools."
This year the awards competition attracted more than 680 entries from 57 countries, with applicants ranging from agile start-ups to the world's largest financial institutions. Winners were selected across eight categories through a peer-based voting process combined with a panel of judges from leading global financial firms. Criteria that judges considered included originality, strategic capacity to generate a long-term competitive edge and return on investment, and adaptability for use in other markets and countries. E-kyash was chosen among 170 projects from all over the World, only in this category.
E-kyash, Belize's first digital wallet, is easy and convenient to use from any mobile phone.  This innovative solution removes barriers to financial access while increasing financial literacy, opening new opportunities and making life easier.  Users can top up their digital wallets from any of our Retail Operators located countrywide or via a Belize Bank account or other financial institution in Belize.  It can be used to make Peer-to-Peer transfers, Bill payments, Merchant Payments using QR Codes, Salary Payments, Payments for Government services.  The app features Geo Location and is available in both English and Spanish.  E-kyash users can soon look forward to purchasing electronic gift certificates, top up mobile phones, and conduct business to business transactions.
With E-kyash, the Belize Bank is fulfilling its Corporate Social Responsibility and promoting financial inclusion for all Belizeans.