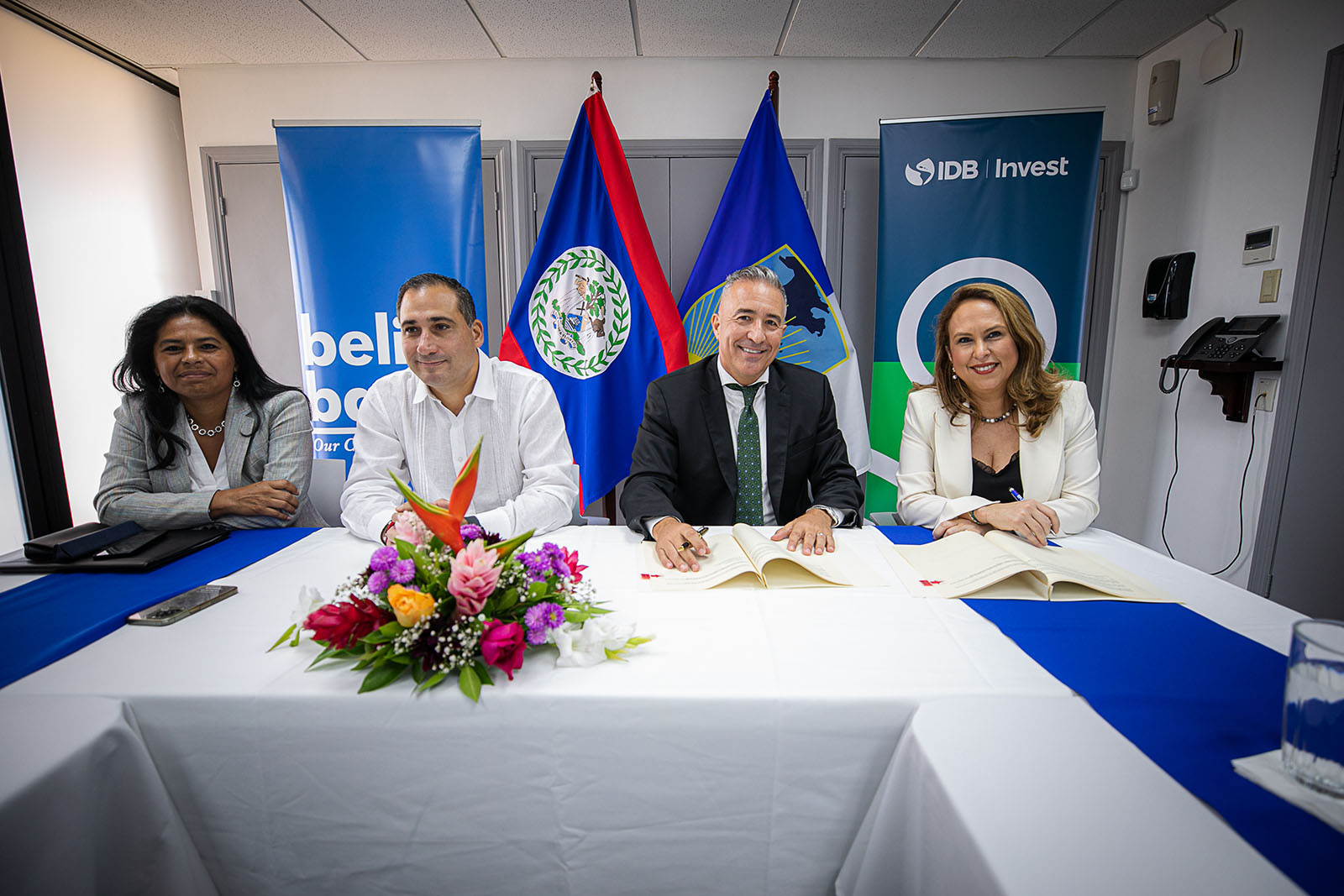 May 19, 2023 – The Belize Bank Limited was welcomed into IDB Invest's Trade Finance Facilitation Program with the signing of a $10M credit line agreement to boost trade among small and mid-sized businesses.
The signing ceremony took place on May 18th at IDB Invest's office in Belize, with the participation of CID General Manager, Tomas Bermudez, Rocío Medina Bolívar, IDB Group Country Manager in Belize, Marisela Alvarenga, IDB Invest Division Chief for Financial Institutions, and Filippo Alario, BBL Executive Chairman.
Through this partnership, the Belize Bank looks forward to catering to the growing financial needs of SMEs and Business Banking clients, providing them with the ability to access financing to become more competitive in international markets which will ultimately contribute significant  growth to the Belizean economy.
Belize Bank Limited offers the full range of retail banking products to its clients through a wide branch network. The credit line will support BBL as it diversifies its network of correspondent banks to offer trade products to a wider range of SMEs and clients in Belize.
Financial systems in the Caribbean and other small economies have been affected by "de-risking" policies of international banks, and the high compliance costs of these large banks have left banks like BBL with limited access to trade finance and corresponding banking networks.
"This operation will contribute with the development of MSMEs allowing them to access the necessary funding to become competitive in the international markets. As we know, MSMEs are the backbone of the economy in Belize, providing employment to more than two thirds of the labor force," said Rocío Medina Bolivar, the newly appointed IDB Country Representative for Belize.
IDB Invest's Marisela Alvarenga said, "The incorporation of The Belize Bank Limited to IDB Invest's Trade Finance Facilitation Program will increase investment and trade in the country, necessary for strengthening the financial systems across the Caribbean."
Belize Bank Limited's Filippo Alario said, "As Belize's largest bank we are delighted to become part of IDB Invest TFFP Program's network as Latin American and Caribbean Financial Intermediaries. Through this partnership, we look forward to promoting trade and contribute to our clients' ability to become more competitive by accessing financing and grow their international business as well as to contribute to the growth of the Belizean economy."
This partnership reinforces the commitment of IDB Invest and Belize Bank Limited to create a hub for investment and trade for the nation and the region while creating opportunities for communities. This deal is expected to contribute to two United Nations Sustainable Development Goals (SDGs): Decent Work and Economic Growth (SDG 8) and Reduced Inequalities (SDG 10).
About IDB Invest
IDB Invest, a member of the Inter-American Development Bank Group, is a multilateral development bank committed to promoting the economic development of its member countries in Latin America and the Caribbean through the private sector. IDB Invest finances sustainable companies and projects to achieve financial results and maximize economic, social, and environmental development in the region. With a portfolio of $15.3 billion in asset management and 375 clients in 25 countries, IDB Invest provides innovative financial solutions and advisory services that meet the needs of its clients in a variety of industries.